When vehicles within your fleet face downtime, it means your company isn't making money, even if it is just one vehicle. Not only can this put stress on your business to find ways to get your vehicles up and running quickly, but it can also cause customer satisfaction to decrease as fewer vehicles means slower or reduced service.
Vehicle downtime can be either planned or unplanned. Regardless of when or how it happened, here are six ways to manage and reduce vehicle downtime and ensure you get the most out of your company's equipment.
What is the Problem With Fleet Vehicle Downtime
If a vehicle is in the shop and not on the road, you're not earning. Your fleet is the heartbeat of your organization, and the longer it takes to service a vehicle and get it back on the road for safe and compliant operation, the less opportunity you have to serve your customers.
Vehicle downtime also causes a fleet to adapt to changes they might have been unprepared to make. It can negatively impact your company's job performance, resulting in less productivity and revenue.
There is also the issue of downtime costing your company to fork over money for preventable repairs or face the worst — replace your current vehicles with newer, better-working ones. This can also set back your company's performance as you wait for vehicle repairs or new ones to arrive.
How Much Can Downtime Cost Your Fleet?
So, exactly how much can downtime cost your fleet? Based on the different components involved, you can calculate an estimate, so let's look more closely at the specific costs associated with determining your potential vehicle downtime costs.
Maintenance and Parts Costs
If vehicles aren't routinely cared for and serviced accordingly, they will require additional spare maintenance parts to get the vehicle back on the road. This is money your company doesn't have to spend and takes away from your business' profit if vehicles aren't routinely maintained.
Labor Costs
The maintenance technician's labor cost could lead to costly overtime (if paid hourly) and, therefore, is used more efficiently. Having technicians work on vehicles facing downtime is an extra expense for your business. You are now paying for the workers to put time into repairs that could have been prevented.
Replacement Costs
If your fleet suffers from neglect or you lack visibility into when maintenance is due, the risk of substantial maintenance and costly replacements such as the transmission dramatically increases. A modern fleet maintenance program could prevent thousands of dollars spent on parts, repairs, and labor.
Opportunity Costs
Suppose a vehicle is down and in the shop for multiple days. In that case, it can prevent drivers from completing their routine tasks and services, leading to rejecting customer requests due to the lack of vehicle availability.
This can be difficult to calculate and might require insight from your accounting department. Still, you can divide your monthly revenue by the number of business days to get your daily revenue, then divide that by the number of active vehicles you have to estimate how much you might be leaving on the table due to an out-of-service vehicle.
Adding up all of these costs will show just how much downtime can cost your organization. This process can be extremely time-consuming without the right system. Managing all of this in a spreadsheet is efficient, and manual calculations are prone to error. A fleet maintenance software, such as AUTOsist, can handle all of the expense management needs to determine the cost of potential fleet downtime.
6 Powerful Ways to Reduce Downtime
If you are looking for some ways to stay on top of vehicle maintenance and prevent vehicle or reduce downtime, here's how to do it.
1. Use Fleet Maintenance Software For Service Reminders
Get notified the moment a vehicle fails an inspection (portal notifications, emails, and push notifications on your mobile device) in the AUTOsist portal. We make it easy for fleet managers to set up their accounts to receive notifications for upcoming services.
2. Stay on Top of Preventative Maintenance With Custom Schedules
Whether based on mileage or time elapsed, you can set custom preventive maintenance schedules for each vehicle to always be aware of when service is due, so your vehicles are never behind on performance updates.
3. Conduct Daily Inspection Electronically
Inspections are required by the FMCSA and DOT for fleets with passenger and commercial vehicles, such as trucking, but aren't mandatory for many service, construction, and delivery fleets. That said, driver inspections give fleet managers and administrators a bird's eye view of the vehicle, so conducting regular inspections is best for any fleet.
4. Leverage Pre-Trip Inspection Results to Create Service Work Orders
When conducting pre-trip inspections, the moment an inspection is submitted through a vehicle inspection app, flags an issue requiring maintenance service, you can automatically generate a work order to fix the issue. In most cases, you can have your maintenance team service the vehicle or equipment after the driver's shift; however, if the issue requires immediate attention and can compromise driver safety, you should plan to have another vehicle available for the driver to use while it's serviced.
5. Schedule Maintenance Staff to Work Around Driver's Schedules
As mentioned in the previous recommendation, sometimes a mobile asset requires immediate attention but leaving it in the shop all day can dramatically hinder productivity. To avoid this unplanned vehicle downtime, try to schedule technician shifts before or after your drivers' hours. Some overlap is perfectly acceptable, as technicians have to prep, update work orders, and can work on other equipment and vehicles as needed.
6. Manage Inventory to Ensure Spare Parts Are Available
Constantly update your inventory levels for maintenance parts such as oil, filters, fluids, belts, etc. Due to the many supply chain issues over the last couple of years, just-in-time inventory is not an ideal solution. Instead, keep a few extra of each regularly used spare part on hand to avoid stock-outs and waiting weeks for delivery.
Reduce Vehicle Downtime With AUTOsist
Prevent unnecessary downtime of any kind with AUTOsist's fleet management program that helps fleet managers keep tabs on the condition of their vehicles and schedule upcoming repairs.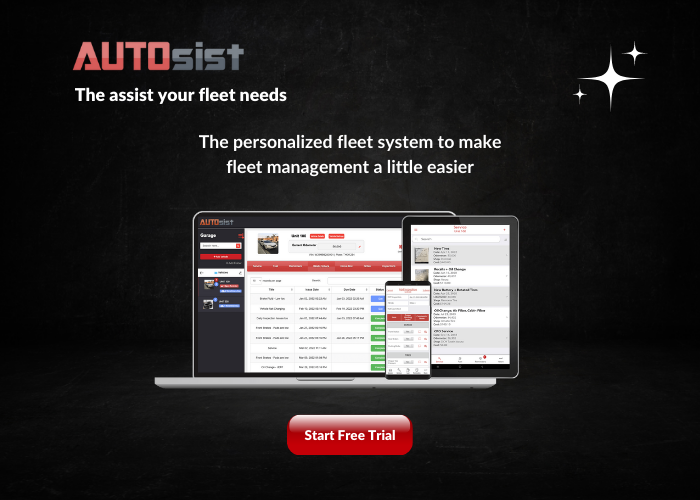 We make it easy for you to track the performance of your fleet, including the vehicles and the drivers. Our service history tab will give you all the details on when a vehicle was last serviced, who performed the repairs, and the extent of what was fixed per vehicle.
Fleet managers can also use this system to send alerts and notifications based on every vehicle odometer of upcoming maintenance performance. Pair this with our inspection checklist, and you can see the details on every vehicle serviced within a fleet to ensure they were handled properly or which ones need maintenance.
If you are ready to prevent downtime within your fleet and save your organization, it's time to consider AUTOsist. Get started with your free trial or a live demo today.