Types of Fleet Management Reporting
In the past, fleet managers and administrators had to manually enter and track each expense, invoice, and receipt for each vehicle and piece of equipment. Sounds familiar? Just the thought of this manual process is a nightmare scenario so many find themselves in.
Here are the common types of fleet reports fleet managers need to assess the overall position of the business:
Fleet Expense Analysis
Service History Log
Work Order and Reminder Management
Inspection Submission Analysis
User Login and Usage
Odometer History Log
1. Fleet Expense Analysis
A lot of money that goes into making sure the vehicles in a fleet are running properly and not draining the company budget. A fleet expense analysis report can show the fleet managers how much each vehicle costs in fuel consumption, maintenance repairs, operating costs, and downtime costs
These high-quality analytics can give fleet managers better options to take to conserve the company fleet budget while also enhancing productivity.
2. Service History Log
If fleet managers need to reference when a vehicle was serviced, an automated service history log can give you all of the detailed information you need. A digital service history log can provide ease and organization to house all of the online documents that discuss any time a vehicle was serviced and what work was done on the mobile asset. You can also view the service history log individually for each vehicle or as a whole fleet.
The best part is that a fleet manager will not have to keep accruing binders full of paper. All of this data can be stored digitally in one location.
3. Work Order and Reminder Management
It's safe to say every vehicle will need work done from time to time. Service maintenance is important to ensure the longevity of your mobile assets. Still, you need to know when those service dates are so you can strategize your vehicle being out of use.
An automated work order or reminder management report can notify fleet managers of upcoming services in advance to allow proper time to strategize and prepare. It also helps to outsource this task and do the work for the fleet manager by creating a work order reminder for these professionals.
4. Inspection Submission Analysis
Fleet vehicles also need to be properly inspected like every other vehicle. An electronic inspection submission analysis can give fleet managers the ability to customize tier driver inspection reports electronically. Fleet managers can also use the submission analysis to read detailed insights on either one vehicle in particular, or across the whole fleet.
Paper forms have been heavily relied on in the past, but automated forms make it easier to ensure drivers are not rushing through the work. An electronic inspection form can also increase productivity and address any issues within your fleet in a much more timely manner. There is also the option to add any photos to your inspection for a thorough discussion of certain diagnoses. Fleet managers can analyze the reports to ensure the inspections were completed thoroughly and timely while also seeing which vehicles have failed items and need more maintenance.
5. User Login and Usage
Anyone can go into a fleet manager's office and look through paperwork to find information, but not everyone has access to a fleet manager's electronic reports (this is usually intentional). While the fleet manager can see everything about the company in their login usage, there is also the option to assign a user login and usage function to certain employees for specific vehicles.
AUTOsist's permission control gives fleet managers the flexibility to control who sees what information and has access to updating the system information per each vehicle with this feature. In addition, drivers and mechanics can stay organized and house company information in the same system and increase communication with this function and visibility.
6. Odometer History Log
The odometer history log gives fleet managers the necessary information to see how many miles each vehicle has driven in a certain timeframe. Fleet managers can use this report to get down to the nitty-gritty of each vehicle's trip per week, month, year, and overall. This information also helps in scheduling preventative maintenance and when to possibly rotate vehicles on routes to preserve the longevity of company vehicles and prevent downtime or the purchase of another vehicle.
3 Things to Consider in Your Fleet Reports
Fleet reports need to be fleet specific and dependent on industry and vehicle types. They could be generated daily, weekly or monthly and shared with executives, owners, and other stakeholders.
When generating fleet reports, here are three things fleet managers should include to optimize the information they retrieve and improve future production.
1. Driver Safety
The way drivers use company vehicles plays a crucial role in company productivity and efficiency. The vehicles are the equipment helping your company conduct business promptly. If drivers are using vehicles in an inappropriate manner, these vehicles can face downtime your company can't afford, and managers can also see which employees are using the vehicle harshly, which increases maintenance.
2. Fuel Tracking
Fuel consumption is typically a fleet company's largest ongoing expense. If managers can find ways to reduce fuel consumption and amount spent on fuel, the company can see an increase in profit. Including this factor in a fleet report can tell managers which vehicles and drivers are responsible for the most fuel consumption, or which routes could be participating in this issue, too.
3. Overall Efficiency
In order to improve productivity and to find the areas that need the most improvement, detailed digital fleet reports can pinpoint the overall efficiency of the entire fleet operation and can improve daily workflows while also increasing productivity.
What Can Fleet Reports Reveal?
Fleet reports are more than just a demand from executives and owners. The details in these reports reveal important information, such as trends in expenses related to maintenance and fuel.
Fuel and maintenance are variable expenses that fleets incur over a period of time. For example, a detailed fleet report can indicate if an older vehicle purchased long before a newer vehicle, requires more maintenance repairs compared to another vehicle with the same mileage. This could lead to a quicker vehicle replacement for the vehicles costing more in maintenance to avoid elevating the total cost of ownership.
How To Create and Automate Detailed Fleet Reports
Instead of relying on manually inputting all of your vehicle and fleet data yourself, consider a convenient tool like fleet management software.
Fleet management software that ties to a mobile fleet app, digitizes the input from driver-related expense details, such as fuel expenses. Meanwhile, fleet maintenance technicians can input maintenance and spare part usage and costs for each service.
The results are fleet reports with entirely aggregated expense totals for each vehicle and the collective fleet available in a single system that is free from computing error and pencil whipping.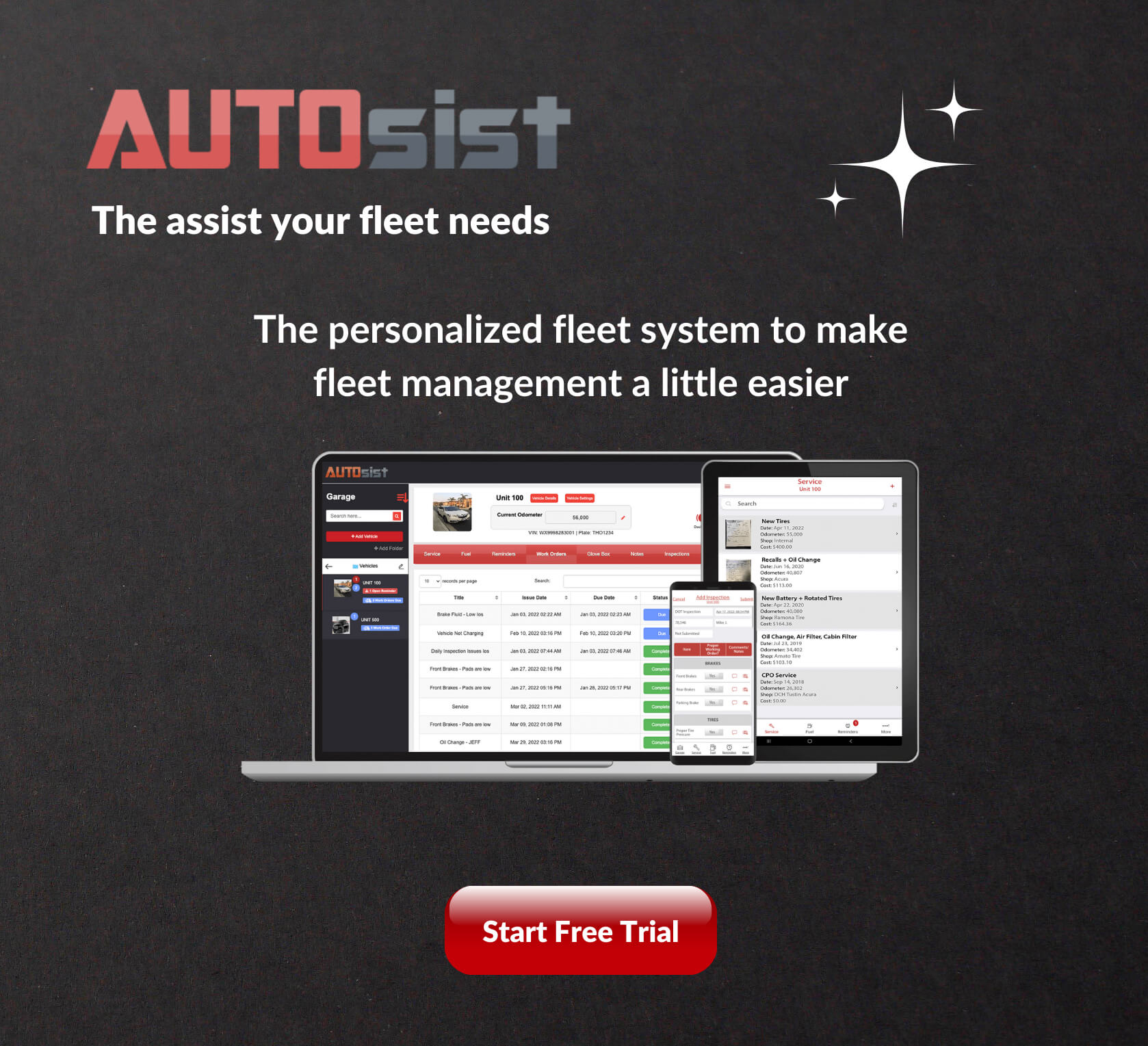 AUTOsist eliminates the need for tedious spreadsheet calculations and formulas and ensures the accuracy of your fleet expenses. It also saves you valuable time by aggregating your data and automating your reporting. Start your free trial or request a demo of our fleet management software.