The safety of drivers and other vehicles on the road is of paramount importance. This is why commercial vehicles like trucks and trailers undergo strict inspections to ensure their roadworthiness.
As the Commercial Vehicle Safety Alliance (CVSA) kicks off its annual inspection blitz from May 16-18, emphasizing the importance of anti-lock braking systems (ABS) and proper cargo securement, fleet managers should take the necessary steps to prepare to avoid fines and downtime.
In this blog post, we'll discuss why proactive maintenance and preventive measures are crucial for fleet safety - and how mobile apps are helping to save the day for fleet managers everywhere.
What is an eDVIR?
Gone are the days when drivers had to file cumbersome paper forms to maintain compliance with inspection reports. Electronic Driver Vehicle Inspection Reports, known as eDVIR or DVIR, have simplified the inspection process significantly, allowing drivers, owners, and operators to manage their fleets in a more efficient way.
Electronic DVIRs are digital forms that drivers fill out electronically, indicating the condition of commercial vehicles and their critical components. These inspection reports include various criteria that cover a wide range of safety and maintenance concerns.
Drivers check their trucks for their proper functioning, safety-critical items, such as brakes, horns, steering wheels, tires, and lights, and record their findings on the eDVIR form. If they notice any issues, they report them to the maintenance department for timely repairs.
EDIVRs help drivers, owners, and operators stay compliant with FMCSA safety regulations. According to the FMCSA, drivers must inspect their vehicles daily, looking for faults and logging requisite inspections to comply with safety requirements.
With eDVIRs, inspection reports are streamlined, and drivers can ensure they comply with regulations by filling out reports on the app and maintaining records to prove compliance.
How Fleets Can Use Vehicle Inspection Apps
Keeping your fleet of vehicles running in top condition is vital for the success of your company.
One of the best ways to do this is by conducting daily pre and post-trip vehicle inspections. These are required not only for personnel safety, but also for the sake of compliance with DOT and FMCSA regulations.
Even if you aren't operating a commercial fleet, inspecting vehicles prior to operation is just good practice.
Here are four ways using a mobile app can help you streamline your fleet vehicle inspections.
1. Efficient Inspections - Any Time, Anywhere
One of the significant advantages of using a mobile app for your vehicle inspections is that it provides you with a flexible and efficient way to conduct inspections.
With a mobile app, drivers can perform inspections from anywhere, anytime, and without the need for paper and pencils.
The app can capture and store all the necessary data about a vehicle's condition and flag any issues that need attention. And since it is mobile, the inspection data can be captured, uploaded, and shared in real-time, making it an effective tool for fleet management.
2. Electronic Driver Inspection Report (eDVIR) Apps Are Easy to Use
One of the main challenges of implementing new technology in any industry is resistance from employees who are unfamiliar or uncomfortable with its use. However, eDVIR apps, like those by AUTOsist, are designed to be user-friendly, even for drivers who are not tech-savvy.
The interface is intuitive and easy to navigate, with clear instructions that guide the driver throughout the inspection process. This means that the adoption rate of these apps can be high, and the benefits are more likely to be realized quickly.
Not only that, but traditional paper-based inspection forms require drivers to mark checkboxes or write down notes, which can be unclear or illegible. However, eDVIR apps allow drivers to pass or fail an inspection item by simply selecting the appropriate option on the screen.
This not only saves time but also reduces the likelihood of errors, as the app can validate the selection and provide immediate feedback to the driver.
Of course, with eDVIR apps, inspection forms can be completely customized to cover the specifications of each type of vehicle or equipment. This means that fleet managers can tailor the app to match the specific needs of their fleet, minimizing any unnecessary steps or fields.
3. They Allow You To Generate Work Orders Instantly
One of the primary benefits of using a vehicle inspection app for fleet maintenance is that it allows you to identify maintenance issues quickly.
The moment an inspection is submitted through the app, it flags an issue requiring maintenance service and automatically generates a work order to fix the issue. This process eliminates any delay between identifying a problem and taking corrective action. It also helps to ensure that the issue is fixed before it escalates into a more significant problem.
Plus, once a work order has been generated, the vehicle inspection app allows you to assign the work order to the relevant maintenance staff. This process helps to ensure that the right person with the appropriate skills and tools receives the work order.
It also allows maintenance staff to prioritize work orders so that high-priority issues are addressed first. This way, you can maximize vehicle uptime and reduce the risk of breakdowns.
Having a seamless workflow from inspection to completed maintenance is essential to maximize uptime and keep vehicles on the road longer and safer.
A vehicle inspection app allows you to create a detailed maintenance schedule, assign work orders to maintenance staff, and track progress in real-time. This feature helps to ensure that any issues are fixed promptly, and the vehicles are back on the road as soon as possible.
In most cases, you can have your maintenance team service the vehicle or equipment after the driver's shift.
However, if the issue requires immediate attention and can compromise driver safety, you should plan to have another vehicle available for the driver to use while it's serviced. The vehicle inspection app helps to identify critical issues that require immediate attention, allowing you to take corrective action promptly.
4. They Help With Crash Prevention
While you may have robust safety policies and driver training programs in place, accident prevention often starts with regular maintenance and inspection of your fleet vehicles. One effective way to ensure that your vehicles are in top working order and avoid crash-related expenses is through the use of mobile apps for fleet vehicle inspections.
Fleet app-based vehicle inspections ensure that your vehicles are consistently tested using standardized forms and checklists. This approach helps your drivers spot safety issues before they lead to accidents. These checklists are based on Federal Motor Carrier Safety Administration (FMCSA) regulations and best practices.
By automating this process, fleet managers can easily store, access, and share inspection reports, ensuring their compliance in the case of a safety audit.
A fleet vehicle inspection app can track and conduct inspections in real-time, which helps ensure that your drivers perform inspections when required. This approach translates to reduced paperwork and more accurate record-keeping, thus significantly reducing the likelihood of false or incomplete inspection reports.
The app's ability to track driver behavior via telematics means that you hold your drivers accountable for their vehicle's condition, which subsequently reduces accident rates.
The use of a mobile fleet app will allow fleet managers to schedule and track preventative maintenance needs promptly.
Regular maintenance and upkeep of their vehicles can have a critical impact on reducing the likelihood of accidents, especially in emergencies. Through automated maintenance scheduling, fleet managers can ensure that vehicles undergo essential checks, such as oil changes, tire rotations, and brake inspections.
The financial burden of accident-related expenses can be substantial. The average cost of a vehicle crash is $16,500 for an employer - but if a worker is injured in that crash, the cost rises to $74,000. If there's a fatality, that cost could easily surmount $500,000.
Needless to say, you just don't have room in your budget for accidents like these. The use of mobile fleet apps for vehicle inspections can reduce crash-related financial expenses by helping to avoid accidents altogether.
By providing consistent and accurate inspection reports, you can avoid legal consequences, employee downtime, and all of their associated costs.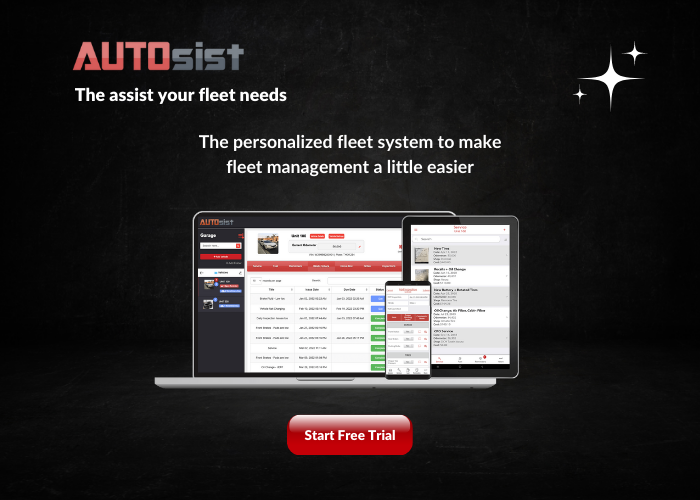 Manage Every Aspect of Your Fleet From Anywhere
Whether you're a small business owner with a few vehicles, or an extensive fleet manager looking to maintain maximum efficiency, AUTOsist is your ideal tool for inspection automation.
We offer a large suite of tools to keep your operation streamlined. Keep your sanity safe while optimizing your operations and make better decisions faster with AUTOsist.
Our intuitive mobile app increases productivity while keeping tabs on expenses, making sure that every action taken is in line with the latest safety regulations.
And you don't even have to be by the computer or in front of a desk - our mobile version takes all the work away. You can access the platform wherever you need without any log-ins or bulky software packages.
Take time (and safety) back into your hands with an inspection app that can do it all for you - seamlessly.