It's easy to overlook the importance of a spare parts inventory management system if your business is functioning effectively. You may even wonder why you must spend so much on managing spare parts.
Many people think that spare parts management is easy and doesn't require adequate attention. So, they make bad purchase decisions, have disorganized stock, and struggle with stock imbalances.
However, when your spare parts inventory system collapses, you'll realize that your fleet maintenance is nothing without it. Unfortunately, it'll be too late, and the havoc would have been done.
A poorly maintained spare parts inventory management system will result in decreased productivity, revenue loss, and many unpleasant consequences. As always, it's better to prevent such mishaps than attempt to repair the damage.
Spare parts inventory management involve overseeing the vehicle/equipment maintenance and repairing parts to keep them running optimally. It also comprises the tools the shop uses to complete the maintenance. In this article, you'll learn all you need to know about keeping this aspect of fleet maintenance afloat.
Spare Parts Inventory Management Guide For Your Fleet
What's the primary purpose of spare parts inventory management? To ensure that spare parts are always available when needed at the lowest overall cost possible.
If you're wondering how modern-day parts inventory management achieves this primary objective, here's a run-down:
Spare Parts Stocking
One of the significant problems spare parts inventory management tries to solve is having out-of-stock spare parts. This is because an out-of-stock spare part translates to additional unplanned downtime. That's especially when the vehicle or equipment requires a significant repair or cannot function in its current condition.
To avoid this problem, a top-functional spare parts system will identify what to stock and make them available early on. More than purchasing spare parts, employees in this department must identify the amounts to stock per time. This tackles the problem of too much or too little inventory.
One thing to note here is that Just-in-Time (JIT) inventory management is outdated. You no longer have to stock up on just enough spare parts to fulfill planned maintenance needs. Nowadays, inventory managers factor in supply chain and shipping delays and purchase additional inventory to reduce the risk of fleet downtime.
Inventory Tracking
After stocking up on spare parts, inventory management requires that you track them correctly. Inventory tracking gives you insights into inventory levels to determine if you can make immediate repairs as the need arises.
Tracking spare parts inventory levels also helps in expense reporting and budgeting. For example, it lets you know if you're splurging on additional tire inventory that takes up too much space and depletes the fleet budget.
Spare Parts Maintenance
More than just stocking and tracking inventory, spare parts management includes servicing and repairs. Maintaining spare parts ensures that they're functioning optimally at all times.
However, the effectiveness of this function is directly dependent on availability. Not having a part available limits their ability to service mobile assets and could result in unplanned downtime.
Note that unplanned maintenance is inevitable, and you can't predict all of your fleet repairs and maintenance needs. However, you can prepare for it by having the necessary parts inventory available for maintenance technicians to complete repairs.
Inventory Security
Keeping your spare parts secure is one of the essential aspects of spare parts inventory management. To do this effectively, you may decide to employ trained security personnel and install security camera systems.
Also, only department workers should have access to spare part inventory. However, even at that, some parts of the shop should be off-limits and only accessible to select employees.
5 Inventory Management Best Practices
The following best practices will ensure that you have a smooth-running inventory management system:
1. Organize Regular Audits and Counts
It's crucial to verify inventory levels regularly, which for many could mean a daily or weekly occurrence. Be sure to confirm the inventory on hand is the same quantity, location, and part type in your inventory management system. Also, conduct random inventory audits to ensure that your physical counts or stock aligns with financial records. Expense management is just as important as the availability of your parts for maintenance.
2. Add Repair and Maintenance Parts to the Work Order
Have maintenance workers, and technicians include the parts used for repairs and maintenance to the work order. Fleet work order software and inventory management systems make it easy to customize and add parts inventory used for service.
3. Work on a First In, First Out (FIFO) Basis
To cut costs and improve efficiency, ensure that you use easily worn-out parts (like belts) from oldest to newest. Also, most packaged engine oils will last 5 to 7 years. So, it's likely that your replacement fluids sitting on your shelf are expired and may damage your fleet. Following the FIFO basis is essential for quality control and reduces waste.
4. Stay Organized
When it comes to inventory management, nothing works without proper organization. Besides maintaining correct inventory, staying organized reduces time wastage when searching for spare parts.
5. Set Minimum Quantity Levels
An efficient inventory management softwareike AUTOsist helps you set minimum quality levels. This ensures that you're never out-of-stock on essential items. In addition, with AUTOsist, you'll get notifications when you have low stock, prompting you to make early orders.
How To Organize Your Maintenance Shop and Inventory
The following two practical tips will help to keep your maintenance shop organized at all times:
Prioritize Proper Storage
Store spare parts in a specific place to avoid safety hazards, theft, and misplaced items. To do this, label shelves and bins according to location and input the details in your inventory management system. Also, make good use of wall organizers.
Create Schedules and Checklists
Ensure that employees prioritize a clean space regardless of how busy they are. Create cleaning schedules and checklists and ensure that your workers stick to them.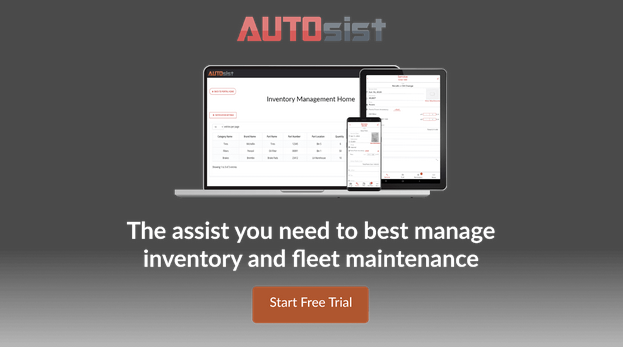 An Ideal Solution to Manage Your Spare Parts Inventory
Let's face it — spare part inventory management can be complicated and challenging to handle. However, it's also necessary, and you can't afford to make a compromise. So, how do you solve this problem? By using a competent parts inventory management service like AUTOsist, of course.
Furthermore, AUTOsist keeps you informed of all inventory details in real-time, improving productivity and reducing unplanned downtime. So, do you want to know more about how AUTOsist can take your parts inventory management a notch higher? Give us a call now.